53.513368,-128.369751
Brim River Hot Springs are roughly 600m up the brim River, from the head of Owy-acumish bay, off the north side of Gardner canal. The River is tidal at least as far as the springs, and at high tide, you can take the kayak up the river to the springs. However, They may be underwater at this point. Otherwise, you will have a short bushy walk from where the old cabin was on the mudflats. Water and gas bubble up into the stream gravel.

On the East Bank of brim River. The hottest recorded temperature is 38 Celsius, but local residents report that it is much hotter at about 56° C.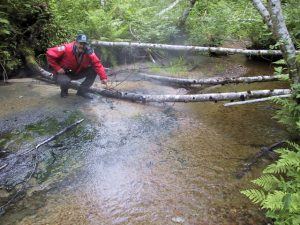 There are no permanent soaking pools, and this is prime bear habitat.
The scenery here is spectacular. The River on the west side of the bay spills into the bay as a small waterfall off of granitic clips resembling those in Yosemite rise above the brim River. However, people looking for hot springs to soak in would do better at
Weewanie Provincial Park
.
Brim River Hot Springs Protected Area and Owyacumish River Park, which are adjacent, exemplify the harsh terrain and stunning beauty of the BC north coast. The rivers flow through narrow valleys with steep, bare rock walls and several waterfalls, all of which are flanked by the Kitimat Coastal mountain range's snow-capped peaks, old-growth forests, and a remarkable range of untouched natural plant communities can all be found in the area. The area's remoteness and pristine condition, combined with the marine – freshwater interaction, provide high-value habitat for a variety of wildlife species, from shorebirds to grizzly bears.
In 2005, the area surrounding the Springs was designated the brim River Hot Springs protected area. See the
BC parks website
for details.